When The Bad Hits The Land
March 15, 2009 7:17 PM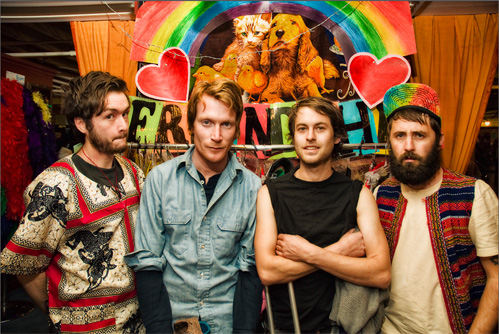 Bad Weather California. Photo by Cory Gustason.
Man oh Man! Just got back from Australia and Vegas with those YACHTs guys, what a time that was. I HUGGED A KOALA! We have so many new things coming up. BRAND NEW BANDS AND ALBUMS AND THINGS AND THINGS! Its sorta like where do we even start? Here! Here is where we start.
Bad Weather California is coming to get you! Bad Weather California is now officially all the way members of the States Rights Family. They appeared with a total jammer on Grown Zone. Chris Adolf (guit/vox) was the main dude in The Love Letter Band who had an EP in The Pregnancy Series. BWC is his new band and they have created an amazing album called "New Punks" that we are so proud to announce that States Rights is releasing on April 28th. It's total feel good rock and roll and this is a band that rips you a new one...in the right place.
Here's a track from "Young Punks":
Bad Weather California - Two Ways
Bad Weather California is hitting the streets this week...and no, they aren't heading down to SXSW like every other band on the planet. They are gonna come to your town (in the West) to keep you company while all the other bands go to Texas. This band is developing a total reputation for being total shredders live so visit them and get shredded. They will have copies of the "Young Punks" with them!
Here are their tour dates (totally updated the Events page with some YACHT ones and White Fang too):
3/18/09 - Urban Lounge, Salt Lake City, Utah w/Future of the Ghost
3/19/09 - Whitworth University, Spokane, Washington
3/20/09 - The Wail, Portland, Oregon w/White Fang & Dash!
3/21/09 - The Department of Safety, Anacortes, Washington w/White Fang & Mt. Eerie
3/22/09 - Sunset Tavern, Seattle, Washington w/IJI
3/23/09 - Sam Bonds Garage, Eugene, Oregon
3/25/09 - Crepe Place, Santa Cruz, California
3/26/09 - Amnesia, San Francisco, California w/Joseph Childress & Dave Dondero
3/27/09 - the EYEBALL, Reno, Nevada w/the Have Mercys & Royal Noble
3/28/09 - Velour, Provo, Utah w/Kid Theodore
Also, our main man in the Bay, Jib Kidder, has been cooking up some videos for his jams that are not to be missed. How does he have his own midas touch of superchop in audio and now as well VIDEO. Dude is bonkers. The vids are perfect and weird and bizarre:
Jib Kidder - Murdergong

Jib Kidder - Flip Flap

Here's one that I don't think that JK himself made but is also rad
Jib Kidder - Aga Aga (Hiromichi Mix)

OKAY. So much more coming soon about White Fang, Cains & Abels, Ryan Power, Kixly, etc.
Comments (5):
Post a comment: