Final Fantasy
Plays to Please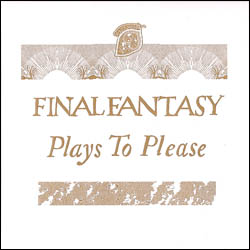 This is States Rights Ontario.
$10
1. Horsetail Feathers
2. Ultimatum
3. Moodring Band
4. I Saved a Junky Once
5. Nun or a Bawd
(3.7 MB MP3)


6. Crush-Love-Crush


On Plays to Please Owen Pallett pays tribute to the songs of Toronto's Alex Lukashevsky and his band Deep Dark United. Deep Dark United's music can be described as...undescribable. But under its waves of hazy unease lay perfectly made songs that Pallett had dreamed of giving a big band treatment to ever since he and Lukashevsky bonded on tour over their mutual love of Louis Prima and Marvin Gaye.

Working with The St. Kitts Orchestra, Pallett gives the songs a huge stage to strut around on and-were it not for the mordant and contemporary wit in the lyrics-you could mistake Lukashevsky's songs for Tin Pan Alley standards. Given that, why not try dropping "I Saved a Junky Once" at your grandmother's birthday this year? Pays to Please is the seventh Pregnancy Series installment presented by States Rights Records and Slender Means Society.

This release is also produced in association with the Blocks Recording Club limited edition 10" vinyl version.