Lloyd & Michael
Just As God Made Us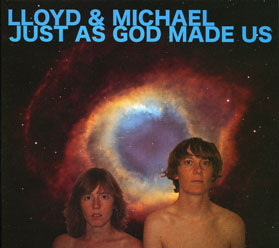 This is States Rights San Diego.
$10
1. Towards A Dark Castle
2. A Real Time Here
(5.7 MB MP3)


3. The Quiet World
4. Recycle
5. No Scare
6. I Stall (The Coming Of Bees)
7. When The Morning Comes
8. Observation
9. I Saw A Whale (What Song)
10. YCC (BHDYGH?)
11. The World Has Moved On
12. Just As God Made Us

Kate Davidson and M. Ritchey have been making music together for twelve years. Having begun their collaboration in a small, dimly-lit dorm room in Portland, they continued by founding the band Dear Nora in 1999. After several national and international tours, Kate decided to pursue a new life in San Francisco, where she learned how to rip wicked guitar solos, turned Dear Nora into a Fela Kuti-inspired 9 person jam band, and released several albums (on Magic Marker Records) to wide acclaim. M. Ritchey stayed in Portland and formed The Badger King with YACHT's Jona Bechtolt, and also followed her tendency toward the mythical to a weird, often cryptic, electro-fantasy-prog solo album under the name "Manta" (which became "Mantar" after veiled litigious threats from a local smooth jazz band became tedious), pouring her energies into an inhuman laptop that neither gave nor received love.

Over the years, both Kate and M. Ritchey explored many new musical avenues, but a small part of each of their hearts remained in that tiny, poorly-ventilated dorm room in which both their friendship and their musical lives were born. Luckily, and for unrelated reasons, they both happened to move to Los Angeles at the same time that, due to the whims of Fate, each was becoming disillusioned with her solo musical venture. It was at this moment that Lloyd and Michael spread its wings and took flight into the disgusting, smoggy air. Now older, wiser, and infinitely more attractive, Kate and M. Ritchey were ready to bring their well-honed individual expressive talents together again, after a decade of solitary wandering. A new album was inevitable, and ended up being recorded in only about four days due to the incredibly strong and positive vibes both were experiencing.

"Just As God Made Us," Lloyd and Michael's debut album (on States Rights Records), sounds like Dear Nora mixed with Mantar, plus elements of Yes, the Doobie Brothers, the Indigo Girls, Hector Berlioz, "The Winds of Change" by the Scorpions, Beyoncˇ Knowles, Ween, the pre-disco work of The Beegees, Joni Mitchell, Pharoah Sanders, and possibly Peter, Paul and Mary. Lloyd and Michael is the sound of friendship. It is the sound of freedom.