YACHT
Anthem of the Trinity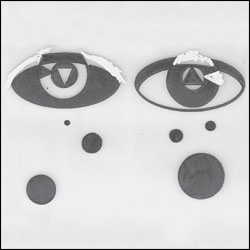 This is States Rights Far West Texas.
CD
$5
Apocrypha Pak: Anthem of the Trinity & Don't Put Out $9
Terry Riley - Anthem Of The Trinity
Outkast - I'll Call Before I Come (Beat)
Sandii & the Sunsetz - Bongazuna (Beat)
Dinosaur L - Go Bang! (Walter Gibbons Mix)
Talking Heads - Burning Down The House
LCD Soundsystem - Us V Them
Nirvana - Negative Creep
Kathy Diamond - All Woman
Dinosaur L - Go Bang! (Francois Kevorkian Mix)
Joy Divison - No Love Lost
Harry Nilsson - Jump Into The Fire
Syclops - Where's Jason's K
INXS - New Sensation
Brian Eno - Baby's On Fire
Bad Brains - Attitude
Black Randy and the Metrosquad - Loner With A Boner
Snoop Dogg (Feat. Pharell) - Drop It Like It's Hot
Tears For Fears - Head over Heels
Althea & Donna - Uptown Top Ranking
Sandii & the Sunsetz - Heat Scale - Words & Dances
T-Pain - I'm 'n Luv (Wit a Stripper)
The B-52's - 52 Girls
White Rainbow - Sand Sifter Dreams Alive
Techmaster P.E.B. - Bass Computer (Intro)

"Anthem of the Trinity" is a carefully crafted, edited, and generally enhanced continuous 37+ minute mix of songs that subconsciously inspired the musical themes of YACHT's latest album, See Mystery Lights. Ranging from Arthur Russell to INXS, the Talking Heads to Bad Brains, from gnostic dance party to deep meditation (and back), "Anthem of the Trinity" is a definitive compendium of YACHT's innermost influences.
Use this mixtape freely (along with all of the other See Mystery Lights companion releases) to better understand YACHT, and possibly yourself, a little more clearly.
There is a sticker on the package with a message from YACHT. It reads:
"These are the songs which drove us to the moment when we first saw the mystery lights in the west texas sky. As we stood in the desert, facing these stars, fallen out of the universe, we wondered, "what combination of tone and chance has led us here?"
You can get the mixtape and their new 7" together for 9 bucks! It's the Apocrypha Pak!