White Rainbow
Sky Drips Drifts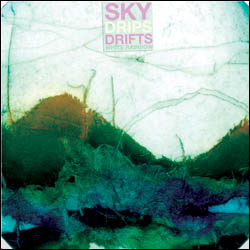 This is States Rights The Sky.
$10
White Rainbow Pak! Sky Drips Drifts (CD) + Zome (CD)
$16
1. sand sift
2. sundune sandset sundrip
3. sun shadow drifter
(15.8 MB MP3)


4. sand sifter sky shifter
5. dream shakers of exhaulted sunLIFE

We here at States Rights Records Musical Sundries and Other Gifts have been waiting patiently to unleash something special upon the world, and somehow now it all makes sense. This is the perfect music for right now, actually I think it's the perfect music for so many right nows, but especially this one this autumnal time of letting go and cozying in.

White Rainbow is IN THE POCKET right now evidenced here with his new States Rights release "Sky Drips Drifts". Deeply tapping into some kind of squiggly lazers that guide the listener through deep ash-ra vibed echo-guitar guitar tryps and then moves on to a positive mantra of chanting voices, guitar strums, tabla grooves, phaser fuzz guitar, deep drones and stuff. It's a sequel of sorts Sun Shifts which was a very limited release by Yarnlazerearlier this year that is now sold out. In a style that most resembles White Rainbow live shows "Sky Drips Drifts" is a focused but free 70 minute flowing jam that is divided into 5 sections.

This album has been such a versatile companion and life aid and now i get to enjoy the best part of this job sharing my favorite music with people.

We have some special deals (<-----) available including one where you can purchase White Rainbow's recent great album "Prism of Eternal Now" (released by Kranky and Marriage Records) and "Sky Drips Drifts" together as one and I think they form a strong yin yang representing this great music. You can purchase "Sky Drips Drifts" along with Adam Forkner's part-time collaborator full-time homie Aaron Snow's Paper "As As" album for only $16 or "Sky Drips Drifts" with White Rainbow's previous great album on SRR "Zome" for only $16.

PLUS, as a bonus when you buy "Sky Drips Drifts" you will receive a free MP3 of the "Sky Drips Drifts" predecessor "Sun Shifts". It's all sold out. This is the only way to get it.